Ted!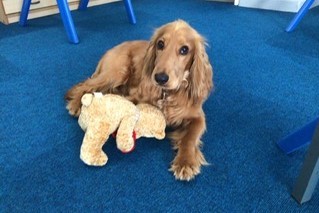 In September 2020 we added a new member to the school community, Ted.
Ted was chosen for his breed being affectionate, friendly and playful towards children. Ted is a highly intelligent dog and has responded well to his training over the past year.
Helping children with cognitive development, social and emotional skills, physical development, reading and building a sense of a family environment and togetherness.
Ted often visits our classes to support children on an individual basis under strict supervision, sometimes he just pops in to say hello!
The children treat him with the utmost care and respect when he is around school. Ted is incredibly calm and happy to have child read to him or join a group of children in the library whilst they are having a book reading session.
Dogs give unconditional acceptance, as they are non-judgmental, which is especially crucial to struggling, emerging readers, he sits listening attentively promoting greater self-esteem and focused interaction with other children. Ted is making a difference in the behaviour of some children, Researchers report that children can identify with animals, and with empathy for the dog, can better understand how classmates may feel.
Dogs will be gentle and loving, but at the same time full of fun and enjoyment for the children. Those children who have performed incredibly well during the week or those who have made progress in a certain subject, or those who have achieved tasks set for them, will be rewarded with spending time during lunch or break to interact with Ted. Walking, grooming, playing and training are just some of the responsibilities children will be allowed to undertake. It has been proved that working and playing with a dog improves children's social skills and self-esteem.
Well done Ted!